Preserving & Promoting Nebraska Tradition & Spirit in Southern California Since 1903


Congratulations!
Lyle Janicek of Lincoln, winner of the Wisconsin game and hotel package.

Your participation supported the CFN Scholarship Fund.
We Invite You to Join Californians for Nebraska
With your membership, you will be supporting programs and events sponsored by CFN. We sponsor a scholarship program, official watch sites, picnics, annual Founder's Day dinner, the web site, and our newsletter. Join today to begin your part in continuing our tradition.

You can apply for membership by several methods: online, mail, or the CFN Hotline at 949-651-9174. We accept online payment with Master Card, Visa, American Express and Discover. It's the quick, convenient way to become a member of Californians for Nebraska. All of our transactions are done via secure server to protect your credit card and personal information.

It's still only $25 annually so take a minute to join today!
Join or Renew Now:
Pay $25 CFN Membership Dues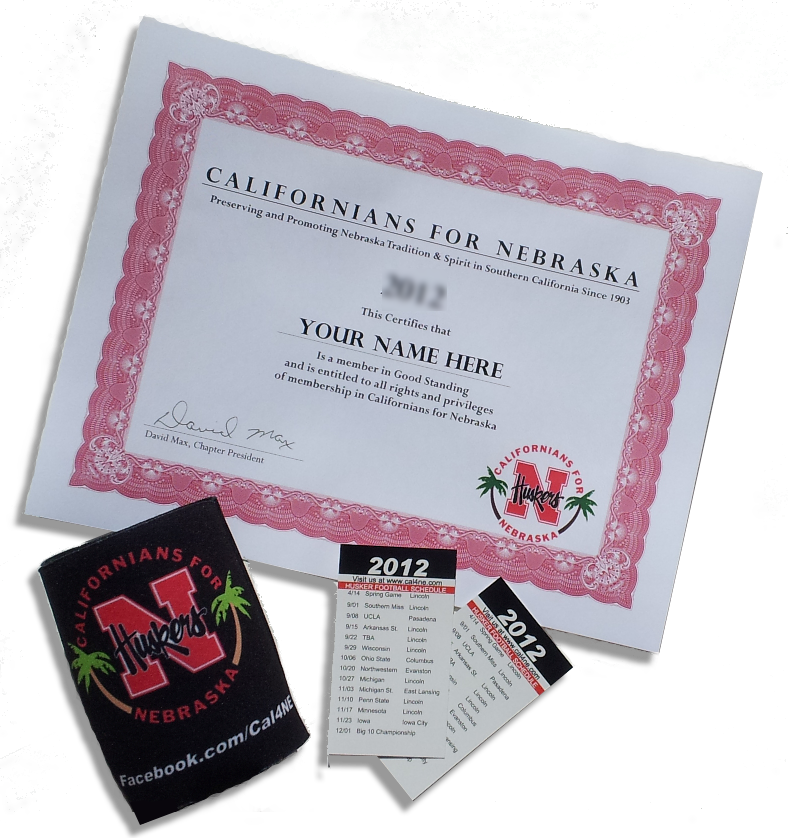 New members complete the form below or download the membership form to pay by mail:
CFN is an organization of friends, fans and alumni of the University of Nebraska that have joined together in support of the University and its athletic programs. Californians for Nebraska supports the University of Nebraska by coordinating activities among graduates, former and present students, friends and others having an interest in the University of Nebraska and the state of Nebraska.

President - Kent Wiedel
Past President - David Max, Bob Semm
Recording & Corresponding Secretary - Patti Zeis
Treasurer - Erik Van Fleet
Membership Chairperson – Mike Zeis
Scholarship Chairperson – Kenny Lautenschlager
Facebook Administrator - Stephanie Olsen
Legal Counsel - Claire Johnson
Senior Advisors - Dr. Paul D Swanson, Dick Gerlach, Jody Royce, Dave McGowan